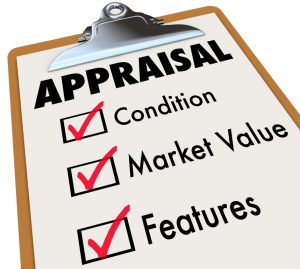 It's a red hot seller's market. Inventory is low and some home buyers are nearing desperation.  They are tired of writing offers and not being selected. There are many components of a strong offer other than price. When the price offered is contingent upon the home appraising – the buyer has an "out".  Most buyers write an offer with an appraisal contingency; meaning that if the home does not appraise for the full amount, the buyer can cancel escrow and have their deposit returned. Lenders base their loan amount on a percentage of the appraised value or purchase price, whichever is less.
Example:  A Glendale home is listed for $1,000,000
The buyer submits an offer for $1,050,000; their 20% down payment is $210,000
 Escrow is opened; unfortunately the home is appraised for just $1,000,000 – the bank will lend the buyer 80% (of the lower amount) or $800,000.   In order to obtain financing the buyer needs to increase his down payment by $40,000.  OR the seller needs to reduce the purchase price or the two parties can negotiate somewhere in the middle.
 BUT when the buyer has waived their appraisal contingency the buyer must increase his down payment (in this example) by the $40,000 OR risk losing his escrow deposit.  If you are a home buyer unsuccessfully making offers, waiving an appraisal contingency will increase your chance of success.  When working with a savvy buyer's agent, have them explain the risks and benefits. If you are not working with a savvy buyer's agent, give me a call.