Why I love living in Arcadia, California by Kris Jardino: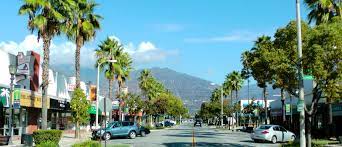 This picture alone says it all, a gorgeous city located at the base of the San Gabriel Mountains, Arcadia has one of the best back drops a city could offer. I moved to this city when I was six years old and still reside here. I have seen many changes over the years, for the most part all for the better.
Arcadia has quite a bit to offer for a suburb of Los Angeles and not a major city. The Los Angeles Arboretum is one of the most beautiful gardens in Southern California with its gardens, walking paths, summer concerts and attracts wildlife which spills out into the community. Westfield shopping center is also a big draw to my city and I personally love being so close to some of the best shopping and restaurants. This mall has had many changes over the years as well as face lifts. However it has always housed a movie theater which of course is another plus.
There are many parks in Arcadia, we even have a dog park. However, my husband and others particularly enjoy Arcadia County park. It offers a beautiful 18 hole golf course which while a public course it feels like a private one.
Probably the biggest draw and a huge asset to Arcadia is the Santa Anita Race Track. You might wonder why. A major reasons is that they built the city and streets to handle traffic. Although when the track is in season, for about 15 minutes around 4:45pm it might be congested The remainder of the time the traffic is light. Even with all the families moving into this great city the infrastructure can handle it. Interesting to note now that they offer "off track betting" the 15 minutes of traffic is not really as bad as it was.
Second reason the race track is beloved is the revenue it has brought to our Award Winning School District. Arcadia Unified School District is one of the best in the state. Teachers and staff are well paid, therefor we typically get the best. The schools themselves get up-to-date equipment, new books, new desks and ample supplies.
Another bonus for a homeowner in Arcadia is all the above keeps our property values high.
To learn more about living in Arcadia, contact Kris Jardino at 626 590-1988