Home sellers are often concerned that their Realtor may not live up to their expectations. Meanwhile, even the most tolerant of Realtors can reach their limit. There are a few reasons why Realtors cancel listings.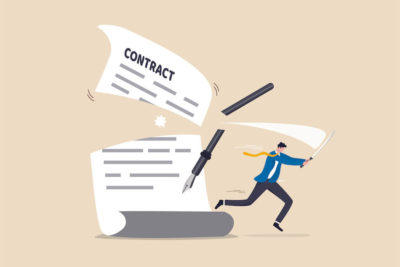 Last year I canceled a listing. The sellers wanted me to put up at least fifteen open house signs splattered around La Canada. Although you will see open house signs each weekend in La Canada, the city only allows them on private property, not on the public right of way. If the city is notified of them, they will be removed. Additionally, I tried to explain that by placing fifteen open house signs we risked getting things broken. But most importantly, their 1200 square foot home would appear even smaller if we packed it full of lookers.
It's interesting that home sellers hire us for our expertise, and some completely ignore it. In over thirty years of selling real estate, I have tried many marketing strategies. At one point, I thought it was a great idea to have lots of open house signs. However, I noticed that the people coming were not serious buyers. They were simply lookers. I discovered the more people in a home for an open house, the less successful it will be. Often, home buyers are reluctant to talk with a Realtor and need to be engaged so that they ask questions. On the other hand, people who enjoy visiting open houses are typically very talkative as they enjoy the process. You don't want your agent wasting valuable time with lookers while ignoring actual home buyers.
What turned me off of the sign pollution opinion? Although it was free advertising for me, experience taught me it was a disservice to my client. Several years ago, I had the pleasure of representing a Lloyd Wright home in Glendale. There was no need for sign pollution for this unique home. But by placing open house signs just about everywhere, I got a packed open house. Unfortunately, it was jammed with mostly lookers. A couple came whose children were touching everything in sight. I had to focus all my attention on their children, so they didn't break anything. I barely had time to answer questions from potential home buyers.
The primary purpose of an open house is to make it easy for a home seller by hopefully containing showings to a certain block of time. The secondary purpose is to make it simple for agents to send their clients without having to do the legwork. The internet has been a game changer; no longer do serious home buyers drive neighborhoods looking for open houses. Nearly all the people that only come from directional signs are lookers. Question: if you were ready to buy a home today, would you first start on the internet finding open houses that suit your needs? Or would you drive around looking for open-house signs?