Multiple offers and bidding wars have become very common in many Los Angeles real estate communities.  Bidding wars are prevalent in neighborhoods such as La Crescenta, La Canada, Pasadena, Eagle Rock, Montrose, Altadena, Burbank and Toluca Lake – all areas with pent up buyer demand and a limited supply of available listings.  You can't help but notice that Sold riders are being placed on For Sale signs at a record pace. But not every home sells in a matter of days. The common denominator for a quick home sale is an aggressive asking price.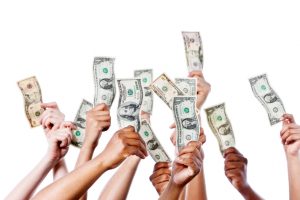 Multiple offers occur when more than one buyer writes an offer in the same time period as another buyer. A bidding war is more extreme.  Different Realtors and home sellers handle multiple offers differently. There are a handful of Realtors who love to grossly underprice their listings. To me, the thought of dozens of offers on a listing is distressing. I picture countless disappointed home buyers and Realtors caught in the mix. But I have learned in this crazy real estate climate that when a home is priced very competitively, it typically sells for more money than when priced accurately.
For instance, when I believe a home will sell in the low 8's, it should be priced at $789 – $799.  If I list at $810,000 it won't be as exciting.  Home buyers will sit on the fence; they will wait and monitor the activity (are there any other offers? – see our blog post about herd mentality).   Slight underpricing is the home seller's best strategy, but there is no need to grossly underprice.
Often my weekends are consumed with back-to-back open houses.  Frequently the home I hold open does not work for the buyers who visit. There are a variety of reasons it's not a good fit: price, condition, location, number of rooms, etc. In this instance, I inform these buyers about my other listings which will soon be on the market.  And when these potential home buyers ask about price, I explain that there is often a difference between asking and selling price.   And then we discuss why it is unfortunately necessary in this competitive market to price just under market value and then have those dreaded bidding wars.
Sadly when I have priced at market, it doesn't work to my seller's benefit. Advice to home buyers: When you see a price that's too good to be true – it often is. But keep at it, the perfect home is out there, just waiting for you!  Joe and I have winning strategies to make your offer stand out – read more here:  or better yet, give us a call and let's get you into your dream home!
Related Post: Phyllis Answers the 8 Most Common Home Buying Questions