Earlier this month, I sold 1 South Orange Grove Pasadena. First, a little about the community:
Constructed in 1980, One South Orange Grove is a gated collection of townhomes in Pasadena's finest location. With a front-row view of Pasadena's Annual Rose Parade, residents can relish this splendid spectacle. Additionally, the Norton Simon Art Museum, the Rose Bowl, and the Historic Arroyo Seco lie nearby. Adjacent to this community, Old Town Pasadena beckons with its shopping and dining options.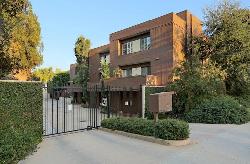 Comprising 13 units, One South Orange Grove offers two-bedroom floorplans spanning 1,700 to 2,200 square feet. These residences boast elegant features such as formal entries, floor-to-ceiling windows, inviting formal living rooms with fireplaces, and formal dining areas that lead to spacious private patios. The primary suites with fireplaces and walk-in closets provide luxurious sanctuaries. The primary baths have dual sinks, soaking tubs, and separate showers. Each home includes an oversized 2-car garage with built-in cabinetry and a laundry area.
Amenities at One South Orange Grove include a secure gated entry and a refreshing pool and spa, completing the perfect picture of upscale and convenient living.
This should have been such a simple sale, but it was not. My clients have a friend in the building who learned that the unit would be listed for sale. I wrote a letter to the owner, informing him that I had clients who were very interested in his unit. The seller did not respond, so I did some sleuthing. I contacted the real estate agent who had listed the most recent sale in the complex. She was not the listing agent, but the agent for this unit worked at her real estate firm.  I contacted the agent, presented an offer, and we opened escrow. Wow, that was easy…..but it was not.
Some Realtors believe that ordering an inspection on a condominium is a waste of money. I am not one of them. We had our general inspector and the termite inspector out and learned there was a major plumbing leak. The seller's agent hired a leak detection company to learn the source of the leak. Once the walls and ceiling were opened (walls as in plural), we decided to do a mold inspection. This was when the seller's agent became argumentative. Even told me the plumber said there was no mold and insisted we were trying to delay closing. Trying to negotiate the mold remediation with this agent was very difficult as they did not understand the extent of the damage…. flooring, walls, ceiling, cabinets, and whatever else might be discovered during remediation. Fast forward, my clients and I powered through, and we finally closed.