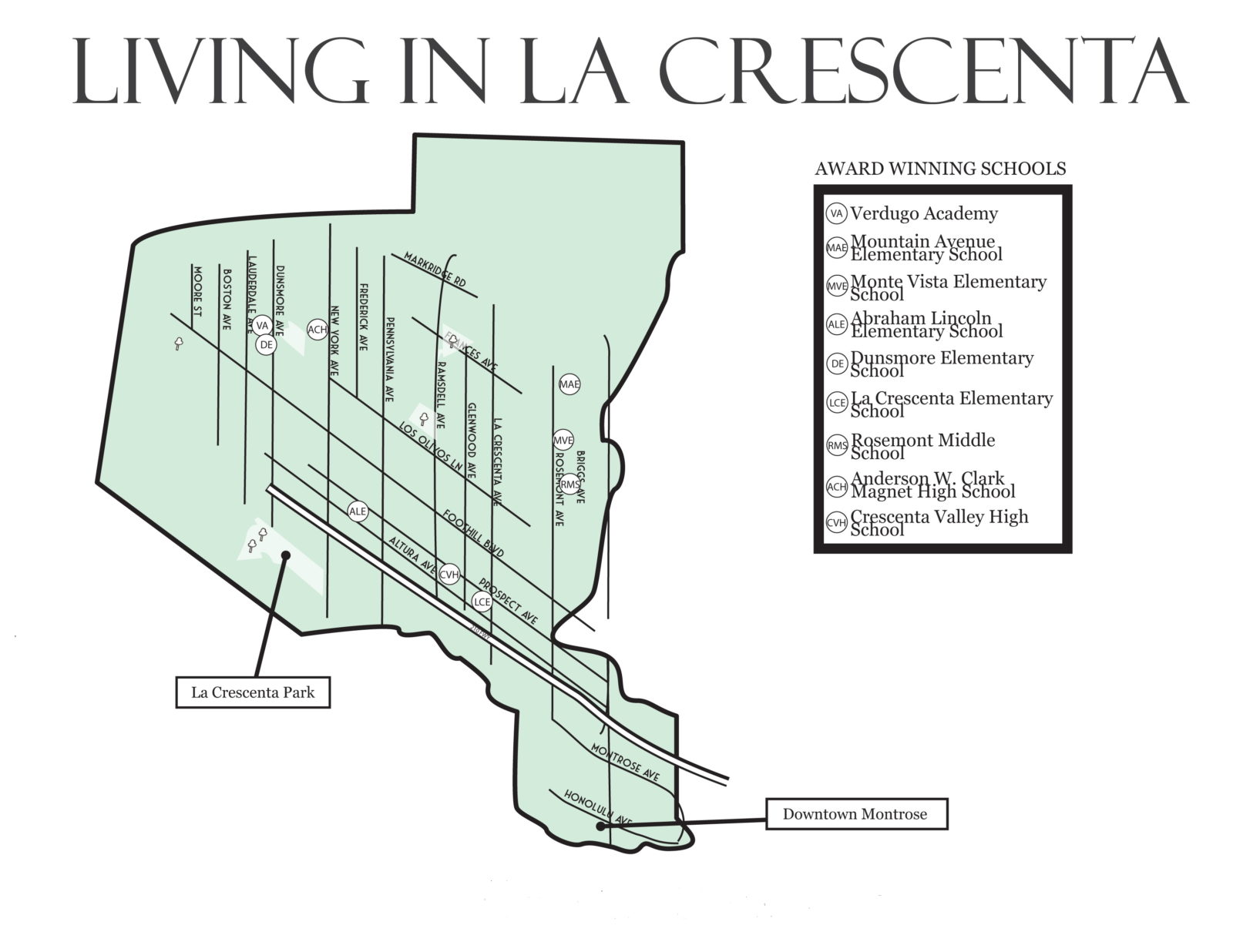 About the Communities of La Crescenta and Montrose
In the early 1880s, Dr. Benjamin Briggs, an Indiana physician, decided that La Crescenta offered the ideal climate and moved here. He desired to devote himself to horticultural pursuits and the establishment of a health resort. Although he did not survive long enough to realize his life ambition, others pursued his interests. Sanitariums for asthmatics and other health facilities for the infirm were built. Fast forward to the 1970s when the 210 freeway was completed, which shortened many residents' commutes. Depending on traffic, the communities of La Crescenta and Montrose are approximately 30-45 minutes from Downtown Los Angeles and 20 minutes from the Angeles National Forest. The California ranch is the predominant home style with a sprinkling of mid-century homes. Markridge Estates boasts larger floorplans of newer homes. The main attractions are the blue ribbon schools and various parks, including a dog park.
---
Find La Crescenta Homes for Sale | Popular La Crescenta Neighborhoods
---
COMMUNITY RESOURCES
THINGS TO DO IN LA CRESCENTA AND MONTROSE
Montrose Harvest Market
Sunday Mornings
Crescenta Valley Park
818.249.5940
CLUBS AND ORGANIZATIONS
Historical Society of La Crescenta
Prom Plus is a grassroots effort that parents and community members in the Crescenta Valley started. It offers an alternative to unsupervised after-prom parties.
OUR FAVORITE RESTAURANTS IN MONTROSE
Black Cow Cafe
Blue Fish
Star Cafe
Cafe Sole
Town Kitchen and Grill
Gelsinger's
ADDITIONAL RESOURCES
I look forward to helping you explore these highly desired neighborhoods. Call me to learn more about La Crescenta and Montrose.