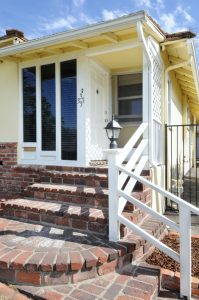 I have been showing homes like crazy.  Although, the real estate market is changing, it is no longer a red hot sellers market.  Affordable homes in move-in condition are still selling like hotcakes but I am noticing that more listings are getting reduced and or taking longer to sell. Los Angeles home buyers there is no need to panic!
Home buyers in a position to purchase a cosmetic fixer upper are going to find the only real estate "deals".   When George and I purchased our home it was hideous.  We were fortunately in a position to have a lot of work done prior to moving in.  Money is always an object and we couldn't afford to remodel all of the baths.  Each one was more disgusting than the next.  We picked one, closed the door and didn't look at it for two years until we had the money to remodel.
Los Angeles home buyers need to calm down, don't be a deer in the headlights; I am seeing too much of that panicked look.  Buyers take note: Buying a home is different today, interest rates are historically low.  If interest rates rise to double digits there may not be a move-up home in your future.
Translation: Don't settle and buy as much home as you can afford.  Forgo eating out, vacations whatever you need to sacrifice.  Do not buy a home you don't love (or can't eventually transform into one you will).  The three keys to buying a home:  location, floorplan and how well a home opens to the outdoors.   Because of our climate, Southern California is one of the most desired places to live in the world.  When a home open well to the yard or patio, you will have increased your living space.  My favorite spot in my home is my patio, even with the heat…. I just turn on my misters.